Shopping for plus size pants can be a difficult task. It is hard to find pants that fit "just right." You obviously don't want pants that will swallow you but you also don't want pants that you are going to swallow. You need to be able to breathe but you also want them to emphasize your body – creating a long, lean, flowing, natural look to your legs. If you want all of that, though, how can you make it happen? While every woman is shaped completely different in regards to shape and size, there are still a few little techniques that you can put to work when shopping for plus size pants to ensure that they'll fit you just the way you want them to.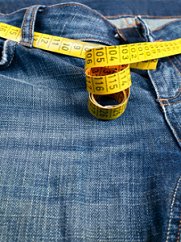 Plus Size IS NOT the Same as Regular
The first thing that you need to become familiar with is that regular sizes and plus sizes are definitely not the same. They are created on complete different scales. You can't compare a plus size 18 and an 18 regular as the plus size 18 will be larger. With that said, if you can fit into an 18 regular, you simply need to look for smaller sizes when shopping in the plus size section. Don't feel dumb if you thought the sizes were the same because several of my friends used to think the same thing.
Hold 'em Up!
An easy way to go about seeing if a pair of pants is possibly going to fit is by holding them up to your body. Pull each side to your waistline to see if they seem like they will fit. If they are able to touch both sides of your waistline, where the pants would be when you would wear them, then it's likely a good fit. Same goes for your waist as well as the inseam. Obviously, this isn't going to work every time and isn't going to be right on so it's always advisable to try the pants on before you actually buy them when and if possible.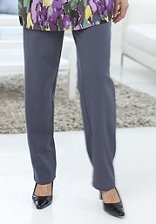 Length of Your Pants
It's always better to have pants that are too long rather than too short. If you aren't trying on your pants and you have larger legs, then your legs are going to fill out the pants more than it would appear when you were just holding the pants up to your body. This might be a nice time to try the pants on if you can. When you try them on, if they are simply too short then get the same waist size but a pair of pants that are longer. The same goes for if you can't get the pants to come up over your calves very easily, or at all, when trying them on.
What Style?
When it comes to picking the style of plus size pants that you would, you need to take into consideration the styles of pants that fit and look well on plus size women. For example, pleated pants are definitely a no-go for plus size women since these style of pants bunch up near the stomach area. You will want to find pants that can add shape to your body – not just straight pants. If you purchase pants with patterns, try to purchase a pair that the patterns blend well and do not attract the eye immediately. If you like stripes then choose vertical over horizontal, as vertical stripes tend to allow you to appear leaner and your legs longer.
Fabric Matters!
Another important factor when shopping for plus size pants is choosing the right fabric. You will want to purchase a fabric that will be comfortable but a fabric that isn't going to cling too tightly to your body. Flare-cut, boot-cut as well as wide-cut jeans and pants are all perfect choices.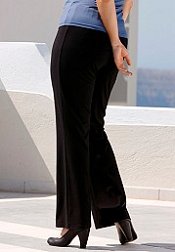 Elastic – A Wise Choice
Many of my plus size friends prefer elastic waists, as they seem to fit more appropriately; however, one thing that they didn't know is that the elastic band should always be sturdy and wide. This is to ensure that the band does not bunch up when you are sitting down causing your pants to become uncomfortable to wear. As I said before, it is definitely not an unproblematic task to find the perfect plus size pants that fit perfectly and feel perfect. Despite that fact, though, the above techniques will help you in finding the best pants and will save you time when you get to the department store. You won't have to take nearly as many pants to the dressing room to try on if you take these tips with you. Remember, though, the most important thing when it comes to shopping for your plus size pants is that they are comfortable for you.
By Danelle Orovitz (dorovitz@plussizeclothes.net)
Submitted on 13th December, 2010

Danelle Orovitz is a freelance writer for an online portal for fashion tips.